(This post is brought to you by my hubby! Mr. Thrifty Finds himself, GABE!)
When we moved into our new home, the one thing I was not sure about was how we would adjust going from a two car garage down to a one car garage. Originally, we were thinking about the option of adding on to the existing one car garage to make it a two car. After getting some estimates done, we decided to opt out of the big expense of adding on and decided to spend a little money to make the one car garage, the ultimate one car garage.
When I began looking at the space in the garage, I noticed the potential that this garage had. I began dreaming of the possibilities. Here are some before pics of the garage...
The first thing I knew I wanted in the garage was some overhanging shelves. I found a company that would build the shelves within a couple of days and they did a great job. The real benefit of having the suspended shelves is it keeps a lot of things off of the garage floor.
Speaking of the garage floor...that is probably my favorite part of the garage. I found a local company, The Carolina Floor Project, that did an outstanding job on the floor. Jason spent three days working on the floor and it was well worth it.
Around this same time, I painted the garage with a gray, black, and red paint theme. I painted the walls grey, the trim and steps black, and the doors and railing red.
The next thing I knew I wanted to incorporate was some diamond plate cabinets and other accessories. I found these Gladiator cabinets off of Craigslist for a fraction of the price they are online. They were still brand new in the box. I bought the three tall floor cabinets and two wall mounted cabinets.
This is a pulley system bike rack that I purchased off of Amazon. Very easy to install and it works great!
Katie wanted to keep the brooms and mops in the garage, so I had to find a sleek way to store them, I found this diamond plate broom/mop holder and while I was at it, got a diamond plate key holder and shelf.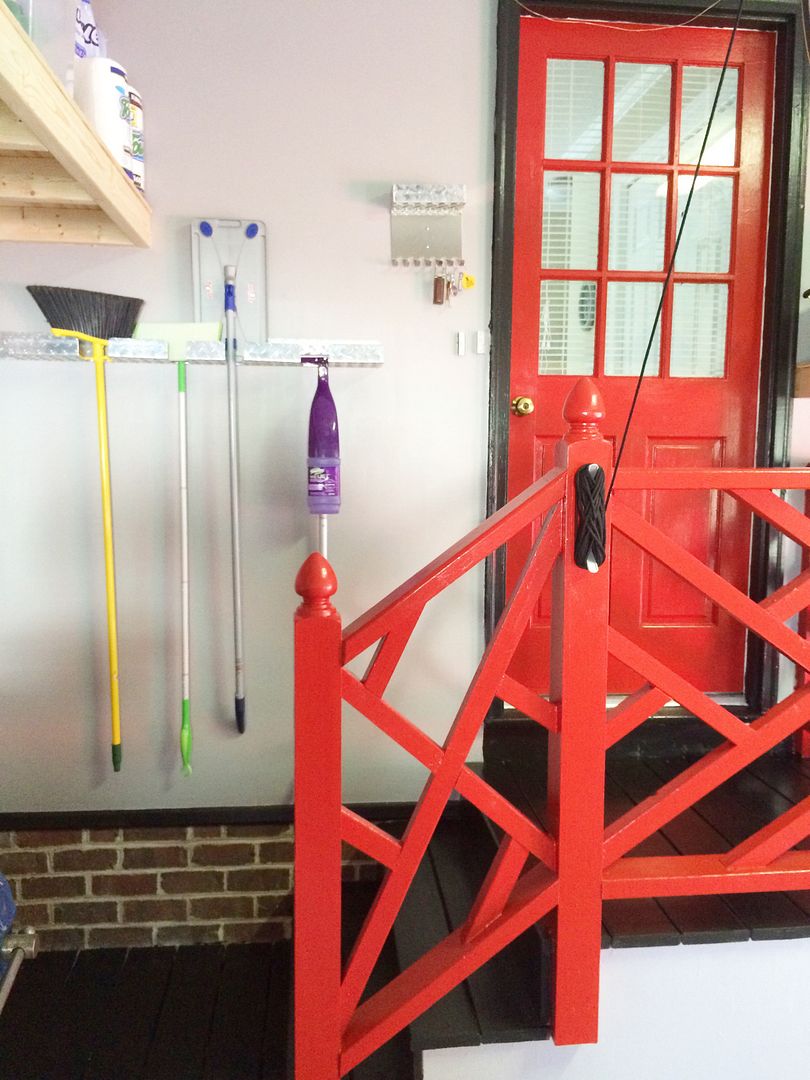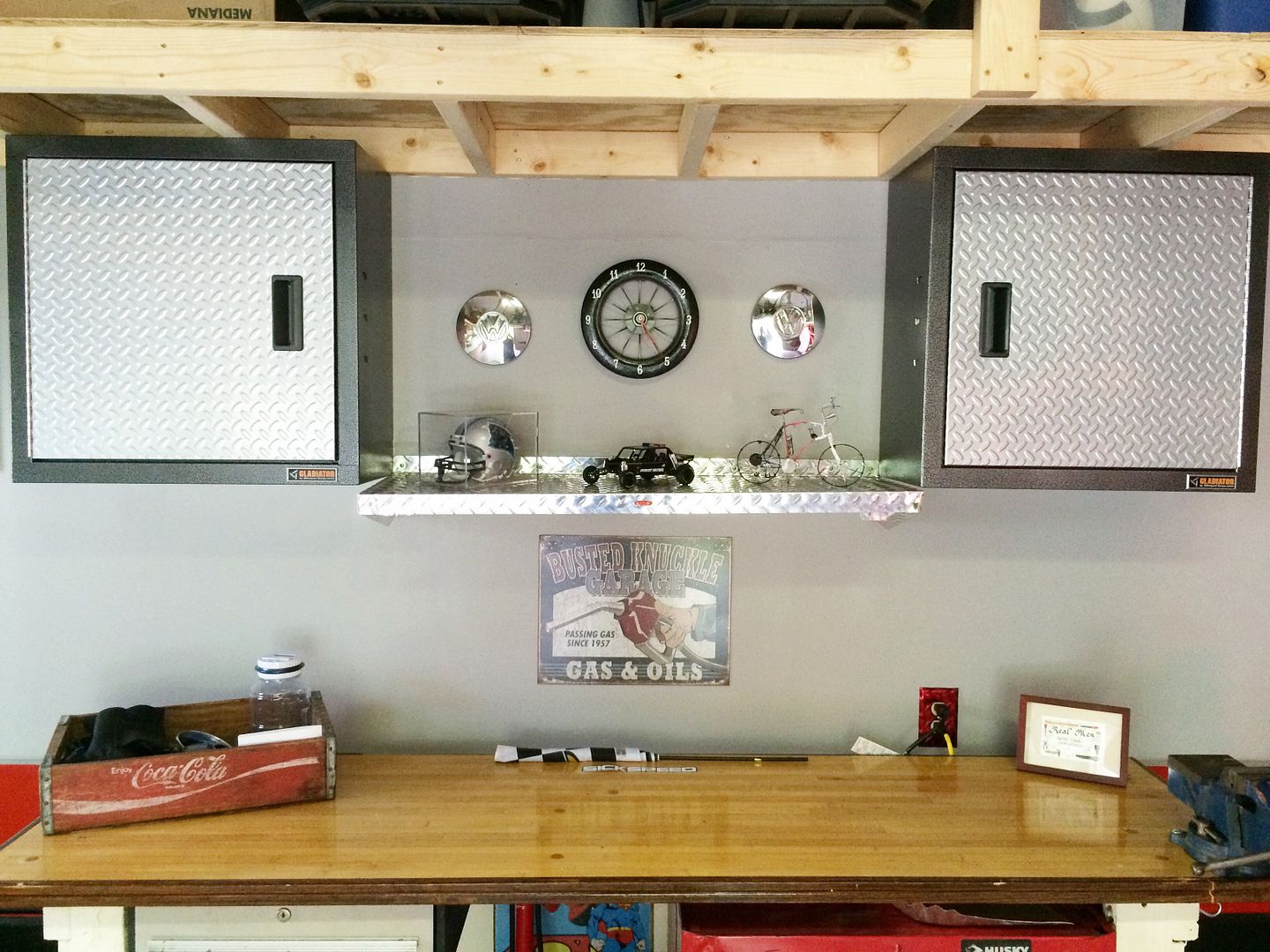 This clock was a cool find on ebay. It is a custom made clock made from a vintage child's wagon wheel.
Another awesome find, was this workbench I found on Craigslist. The top is made out of an old bowling alley lane. I added the big caster wheels to make it easy to roll on the new garage floor.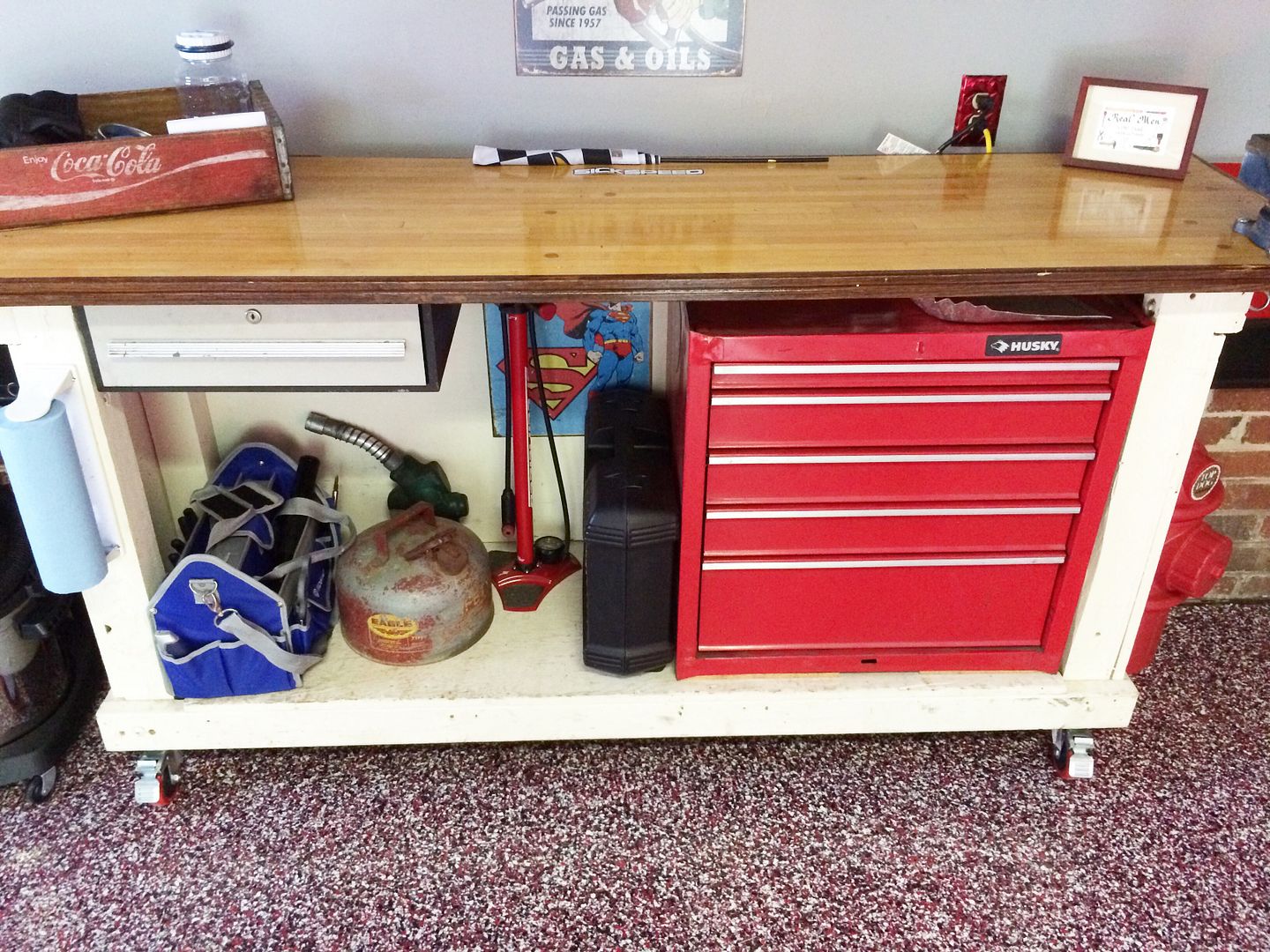 I have wanted an air hose reel for a while and found this chrome one on ebay. I mounted it to the wall with a piece of 3/4" plywood and covered the plywood with a piece of diamond plate to give it a more polished look.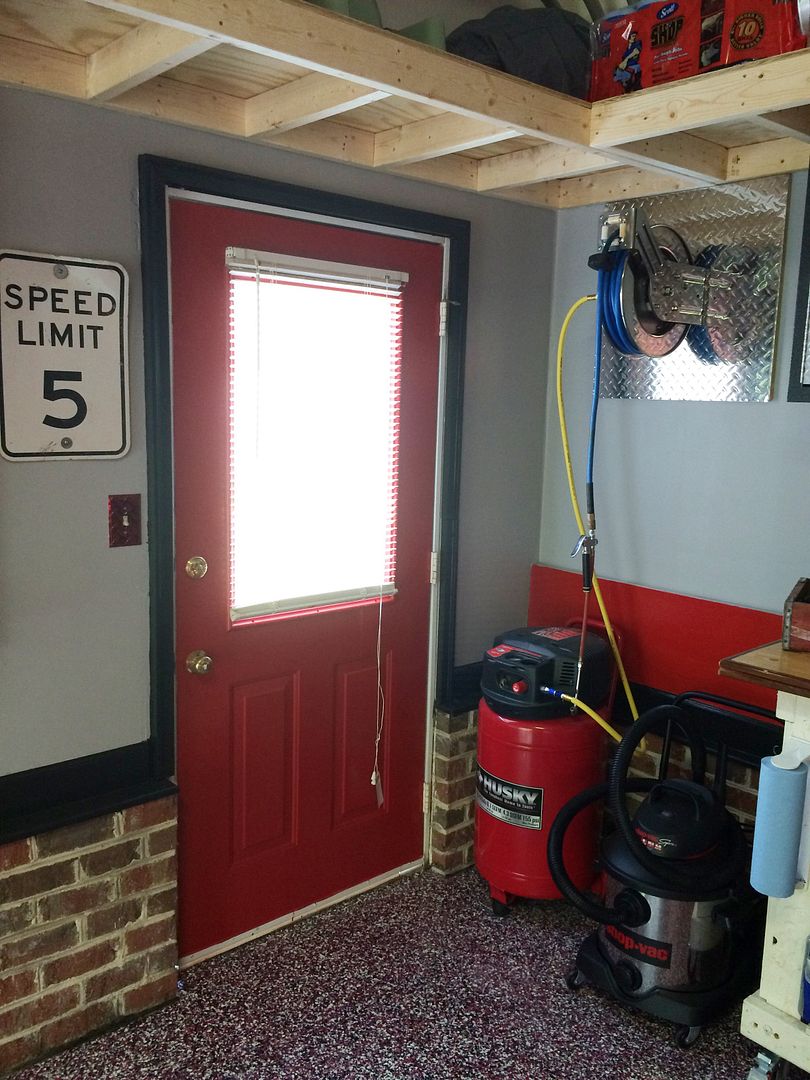 Another neat find was this paper towel holder that also has a shelf to put hand cleaner and other garage essentials.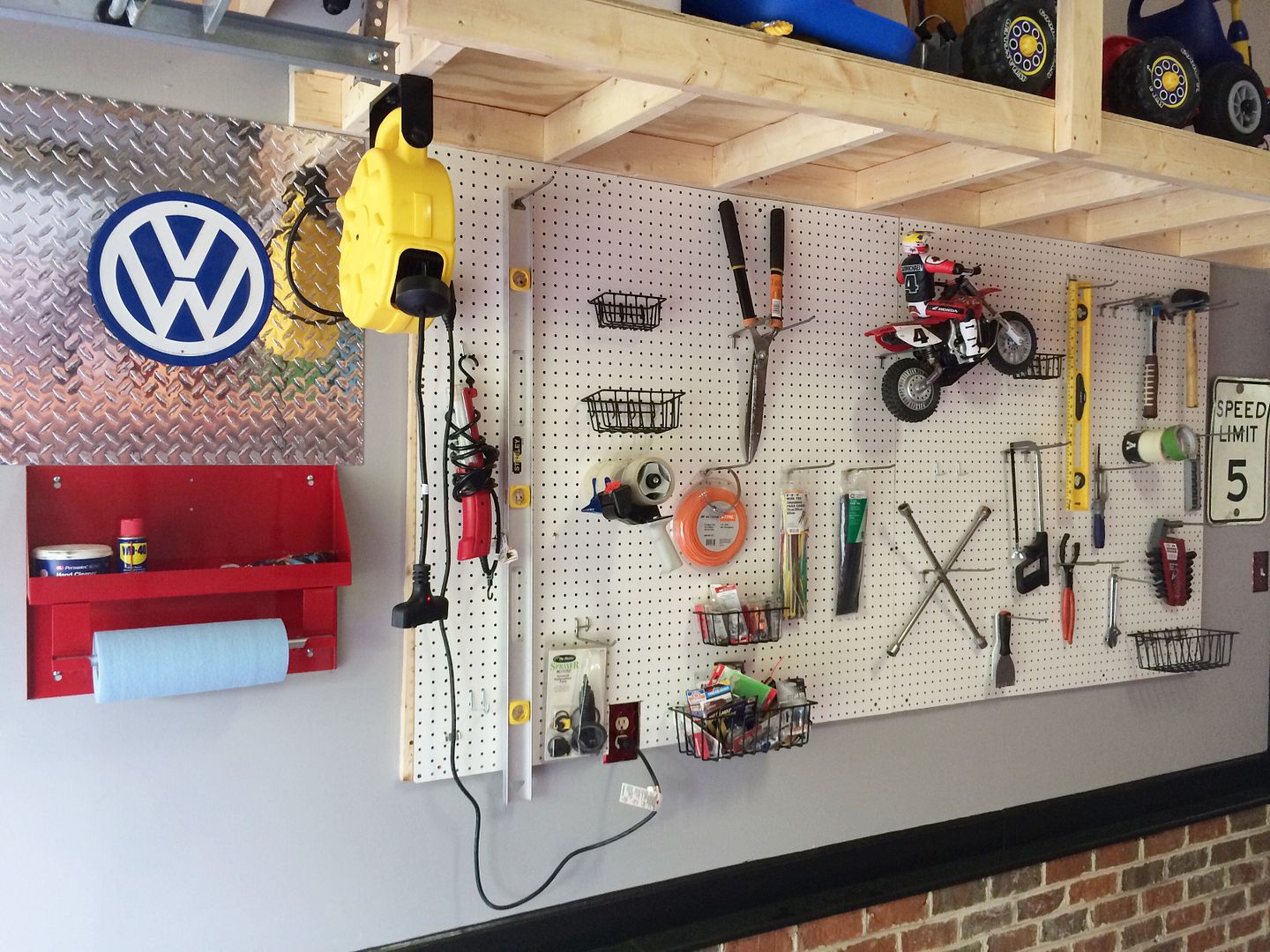 To go with my shop theme, I had to find a good looking trash can. I found this commercial style trash can on Craigslist. It was originally green and chrome, so I repainted it red to match the color scheme.
And this is the ride that gets to call this garage home. It is a 1966 VW Beetle that is an absolute blast to drive and a real head-turner!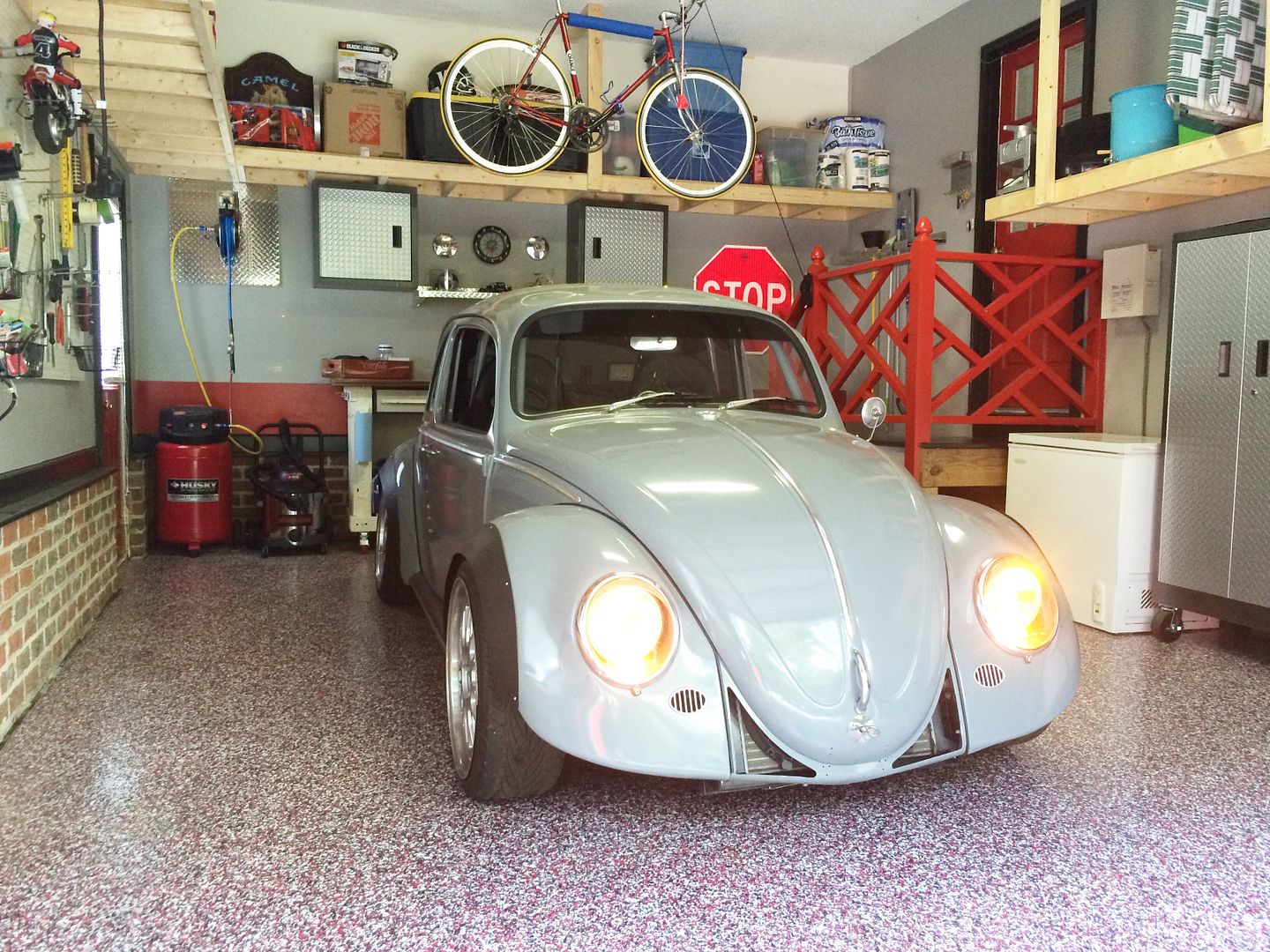 It was a fun project to take on and I think it turned out even better than I had originally dreamed. In the end, I have more room in this garage than I did in my previous two car garage.